[fusion_builder_container hundred_percent="no" hundred_percent_height="no" hundred_percent_height_scroll="no" hundred_percent_height_center_content="yes" equal_height_columns="no" menu_anchor="" hide_on_mobile="small-visibility,medium-visibility,large-visibility" status="published" publish_date="" class="" id="" background_color="" background_image="" background_position="center center" background_repeat="no-repeat" fade="no" background_parallax="none" enable_mobile="no" parallax_speed="0.3″ video_mp4="" video_webm="" video_ogv="" video_url="" video_aspect_ratio="16:9″ video_loop="yes" video_mute="yes" video_preview_image="" border_size="" border_color="" border_style="solid" margin_top="" margin_bottom="" padding_top="" padding_right="10%" padding_bottom="" padding_left="5%"][fusion_builder_row][fusion_builder_column type="1_1″ layout="1_1″ spacing="yes" center_content="no" link="" target="_self" min_height="" hide_on_mobile="small-visibility,medium-visibility,large-visibility" class="" id="" background_image_id="" background_color="rgba(255,255,255,0.71)" background_image="" background_position="left top" undefined="" background_repeat="no-repeat" hover_type="none" border_size="" border_color="" border_style="solid" border_position="all" border_radius_top_left="" border_radius_top_right="" border_radius_bottom_left="" border_radius_bottom_right="" box_shadow="no" box_shadow_vertical="" box_shadow_horizontal="" box_shadow_blur="" box_shadow_spread="" box_shadow_color="" box_shadow_style="" padding_top="2%" padding_right="2%" padding_bottom="2%" padding_left="2%" margin_top="0px" margin_bottom="0px" animation_type="" animation_direction="left" animation_speed="0.3″ animation_offset="" last="no"][fusion_text columns="" column_min_width="" column_spacing="" rule_style="default" rule_size="" rule_color="" hide_on_mobile="small-visibility,medium-visibility,large-visibility" class="" id=""]
Anger in the Classroom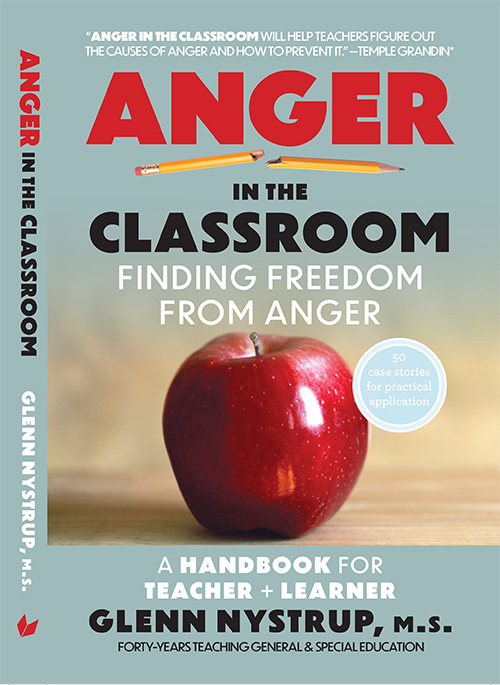 Teachers are given great responsibility and challenge when they enter a classroom. The way that they see, interpret, and act will determine the difference between effective or weak communication and teaching. It is the task of the teacher to learn and prepare for this classroom setting, including the arising of trouble spots such as anger in its many forms.
The strong emotion of anger has many faces and can lead to a complicated array of feelings, actions, and consequences. There is no set plan or technique that will address all of the hazards or nuance of anger. Solutions may need to vary from one student to the next, or
A book about the personal transformation available to each of us, teacher/ student/ parent/ other—via addressing Anger, in its many forms—from fierce to subtle to invisible.
A classroom and home resource book dealing with roots as well as symptoms of anger, and the pursuit of freedom
Packed with insights, techniques, and illustrative case stories to help equip teachers, parents, and specialists with poise, decisive action, and dynamic perspective.
Goals of this book for the teacher/reader:
to realize depths of knowledge, ability, and understanding in oneself, currently hidden beneath one's awareness
to head off anger and its manifestations before it can take hold in the classroom (or individual)
to create a classroom environment which will foster appreciation rather than resentment
to provide specific practices—for exploration and for specific results
to prepare the teacher for passing experience and knowledge on to students
to rekindle the excitement and joy of teaching
Specific features:
case stories illustrating concepts and techniques
specific exercises conducive to reader development and enriched classroom practices
end of chapter questions for readers, for discussion groups, and for college students on a path to teacher-certification
[/fusion_text][/fusion_builder_column][/fusion_builder_row][/fusion_builder_container]